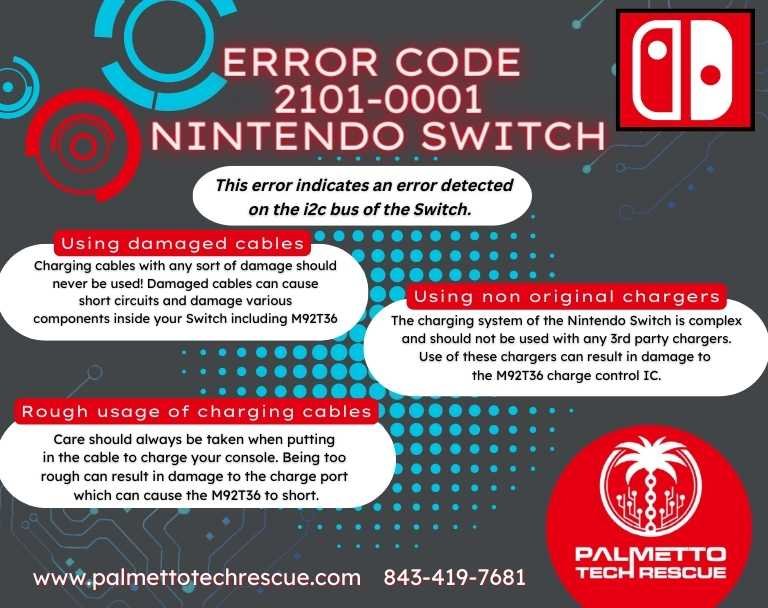 Is your Nintendo Switch experiencing error code 2101-0001? Has your Switch displayed this error code and won't power on? This code indicates an error detected on the i2c bus of the Switch. In this article we'll discuss the causes of this issue as well as how to fix it.
Using non original chargers
The charing system of the Nintendo Switch is complex and should not be used with any 3rd party chargers. Use of these chargers can results in damage to the M92T36 charge control IC.
2. Using damaged charging cables
Charging cables with any sort of damage should never be used! Damaged cables can cause short circuits and damage various components inside your Switch including M92T36.
3. Roughly inserting charging cables
Care should always be taken when putting in the cable to charge your console. Being too rough can result in damage to the charge port which can cause which can cause the M92T36 to short.
Error 2101-0001 is almost always caused by a shorted M92T36 charge IC. This IC tends to go bad from charge port damage or the use of improper chargers. Don't despair, just because your console experienced this error doesn't mean it needs to be replaced. Our technicians have the knowledge and professional tools to rescue your device! No need to lose your games' progress or purchase an expensive replacement console. Our customers save an average of 63% over purchasing new electronics by repairing instead of replacing. All repairs are backed with a 90 day warranty.
---
If you're in the Charleston, SC area you can schedule your appointment right here: https://palmettotechrescue.com/scheduling/
Not local? Not a problem! Set up your mail-in repair right here: https://palmettotechrescue.com/service/mail-in-repair/
Check us out on Facebook here!